EFFECT OF NEBULIZER AND EFFECTIVE COUGH ON THE STATUS OF BREATHING COPD PATIENTS
Lutfi Wahyuni

STIKES Bina Sehat PPNI Mojokerto
Keywords:
Nebulizer, Effective Cough, Respiratory Status COPD Patients
Abstract
COPD is characterized by air flow resistance in the respiratory tract that is not fully reversible. This air flow resistance is progressive and associated with lung inflammatory processes of the particles or toxic gases or disaster. Giving nebulizer and effective cough in COPD patients to facilitate clearance of bronchial those help to control the inflammatory process and improve the function of ventilation, and if action to combined nebulizer and effective cough form of ventilation can increase the function. The design used this study use pre experimental one-group pre test - post test design. In this study the target population is COPD patients  in the Pajajaran  RSUD Prof  Dr Soekandar Mojosari.The samples in this study are 20 respondents,that are taken by using the technique sampling.That meet the criteria for inclusion and independent exclusion.The variabel in this study is a combination of nebulizer  and effective cough,whereas the dependent variable is the status of respiratory ,which were collected by using observation sheets and analyzed using Willcoxon Sign Rank Test with significance level p <0.05. The result show that giving nebulizer and effective cough influence have the increase in respiratory status of COPD patients is (p = 0.001). It can be concluded that nebulizer and effective cough can improve the respiratory status of COPD patients.
Downloads
Download data is not yet available.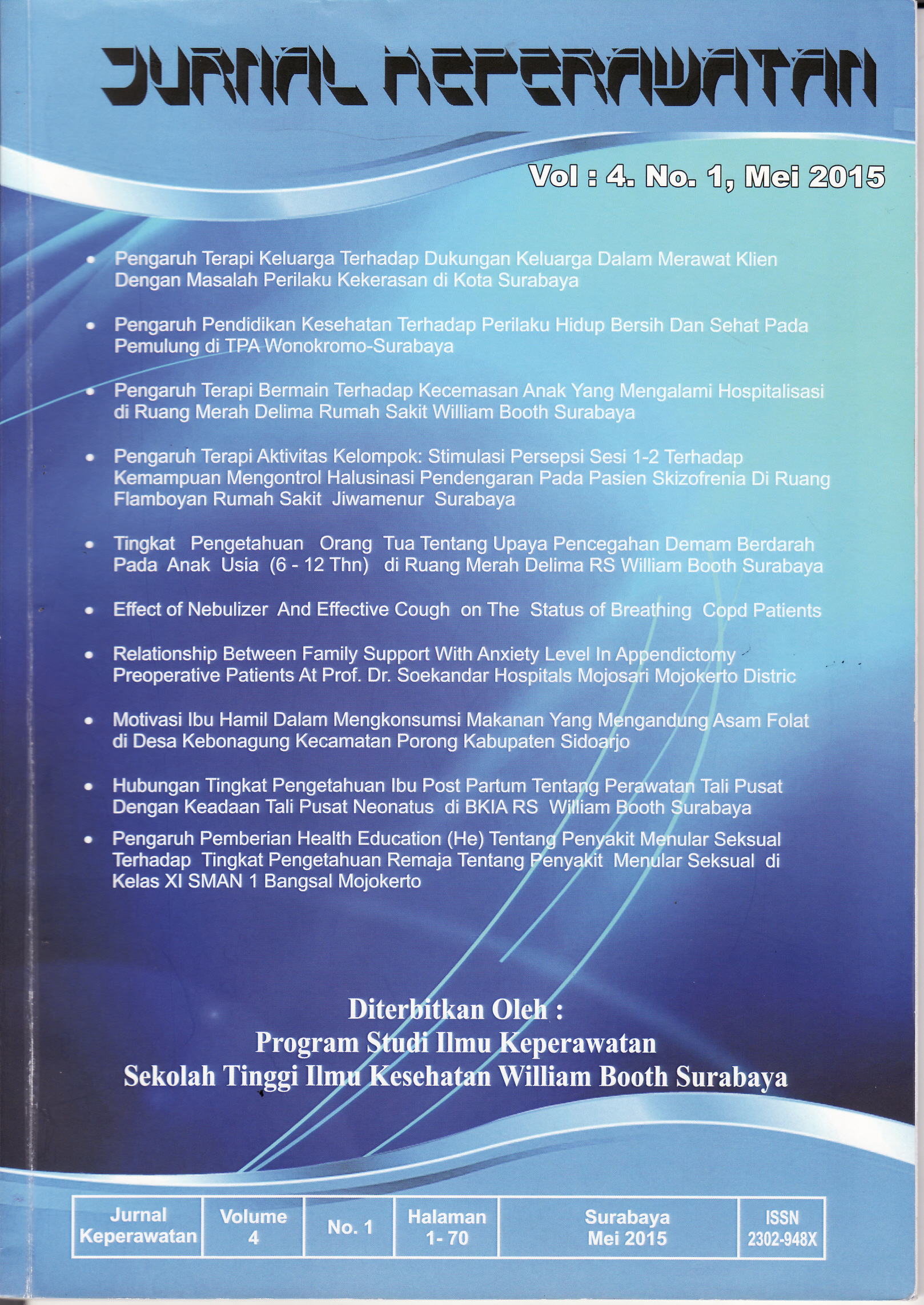 How to Cite
Wahyuni, L. (2015). EFFECT OF NEBULIZER AND EFFECTIVE COUGH ON THE STATUS OF BREATHING COPD PATIENTS. Jurnal Keperawatan, 4(1), 44-46. https://doi.org/10.47560/kep.v4i1.187