The BIRTH PREPAREDNESS AND COMPLICATION READINESS COUNSELING TO IMPROVE HUSBAND PREPAREDNESS
Hanna Yuanita Santoso

STIKES PANTI WILASA
Keywords:
Counseling, Birth Preparedness, Suami SIAGA
Abstract
Birth Preparedness and Complication Readiness (BP/CR) is a strategy to promote optimal care related to the management of obstetric complications. Ideally, maternal health is the joint responsibility of married couples. In the concept of Suami SIAGA, the husband is expected to be ready and aware of risks, to keep his wife from doing things that interfere with her pregnancy, and to accompany her to the nearest referral if signs of complications arise. The role of SIAGA is carried out with the aim of preventing the 3 delays that cause maternal death. This study aims to assess the effectiveness of counseling on birth preparedness and obstetric complication readiness to improve husband's preparedness in dealing with labor and obstetric complications. This was a prospective quasi experimental study with a one group pre-test-post test design. The samples were 32 husbands from pregnant women, taken using a proportional systematic random sampling technique. This sutdy was conducted in the Bandarharjo Community Health Center, Semarang City in April-July 2018. Data collection used a questionnaire given 2x (pretest and posttest) during pregnancy and a follow-up questionnaire during the puerperium. Univariate analysis yields frequency and percentage distribution. Bivariate analysis was performed using paired sample t-test. There was a significant difference in the mean score of knowledge and perceptions of husbands about the practice of BP/CR before and after the intervention (p=0.000). BP/CR counseling was effective in increasing husband's preparedness in dealing with childbirth and obstetric complications.
Downloads
Download data is not yet available.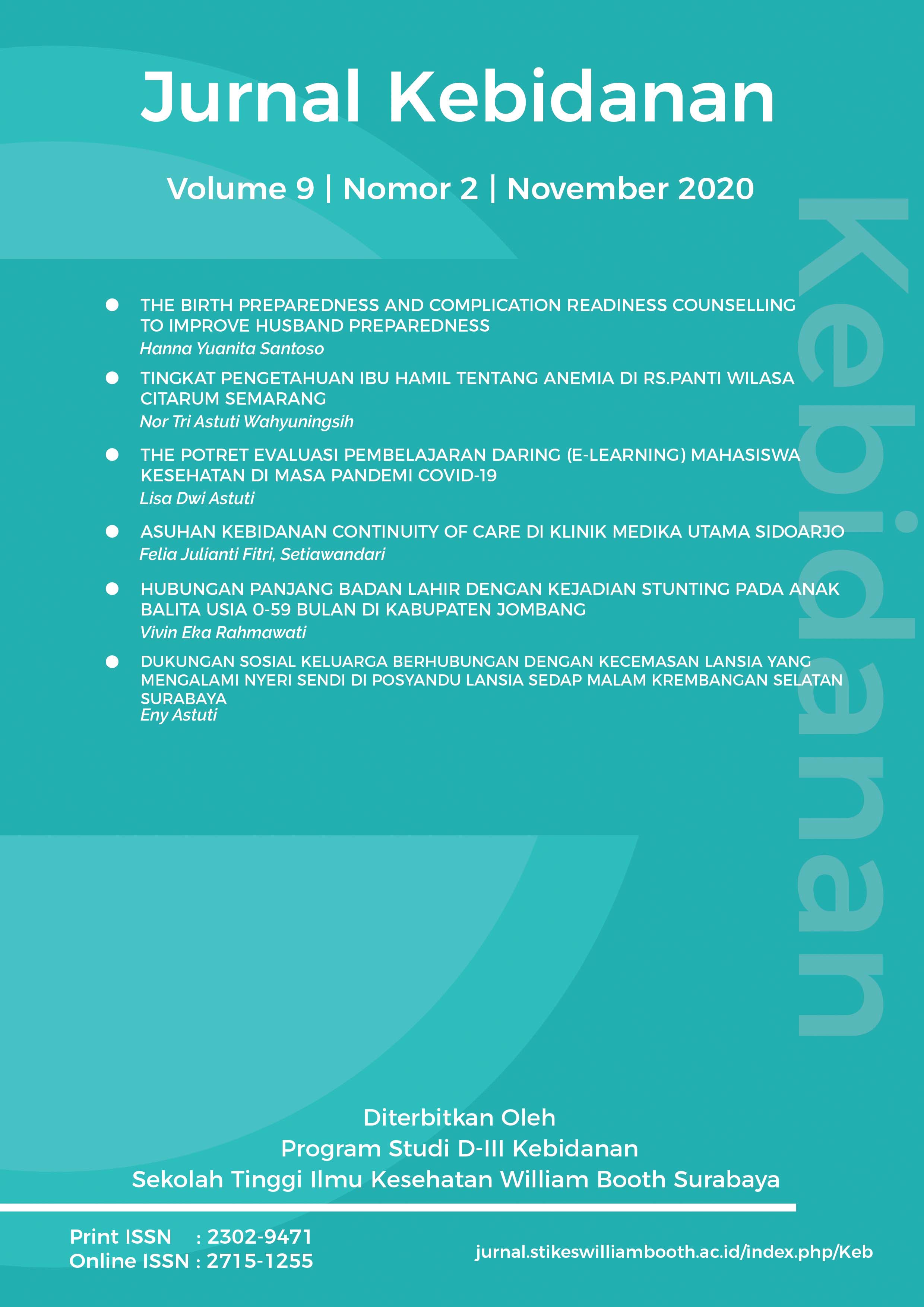 How to Cite
Santoso, H. (2020). The BIRTH PREPAREDNESS AND COMPLICATION READINESS COUNSELING TO IMPROVE HUSBAND PREPAREDNESS. Jurnal Kebidanan, 9(2), 1-11. https://doi.org/10.47560/keb.v9i2.244
The authors who publish this journal agree to the following requirements:
The author retains the copyright and gives the journal rights regarding the first publication with the work being simultaneously licensed below Creative Commons Attribution ShareAlike License which allows others to share the work with an acknowledgment of the author's work and early publications in this journal.
Authors can include separate additional contractual arrangements for the non-exclusive distribution of the journal's published version (for example, send it to an institutional repository or publish it in a book), with an acknowledgment of its initial publication in this Journal.
Authors are permitted and encouraged to post their work online (e.g., at an institutional repository or on their website) before and during the submission process, as this can lead to productive exchanges, as well as excerpts of previously published works.