ASUHAN KEBIDANAN CONTINUITY OF CARE DI KLINIK MEDIKA UTAMA SIDOARJO
Felia Julianti Fitri

Prodi DIII Kebidanan Universitas PGRI Adi Buana Surabaya

Setiawandari setiawandari
Keywords:
Asuhan kebidanan, Continuity of care
Abstract
Continuity of Care merupakan program peningkatan pemberian pelayanan kebidanan secara kontinyu yang dilaksanakan oleh Bidan dan sebagai tugas akhir mahasiswa kebidanan dengan mengedepankan asuhan kebidanan secara holistik dan terpadu. Tujuan dari penelitian ini adalah memberikan asuhan kebidanan secara berkesinambungan pada Ny.N 36 tahun multipara di Klinik Medika Utama Sidoarjo. Desain penelitian adalah diskriptif dengan jenis penelitian studi kasus. Hasil penelitian menunjukkan asuhan kebidanan yang diberikan pada Ny.N mulai dari kehamilan, persalinan, nifas, bayi baru lahir, dan keluarga berencana  berjalan sesuai dengan standar asuhan kebidanan. Simpulan setelah diberikan asuhan kebidanan Continuity of Care ibu merasa nyaman, komplikasi yang terjadi dapat teratasi dan terdeteksi sejak awal kehamilan, ibu dan bayi mendapatkan asuhan yang adikuat dan terintegrasi.
Downloads
Download data is not yet available.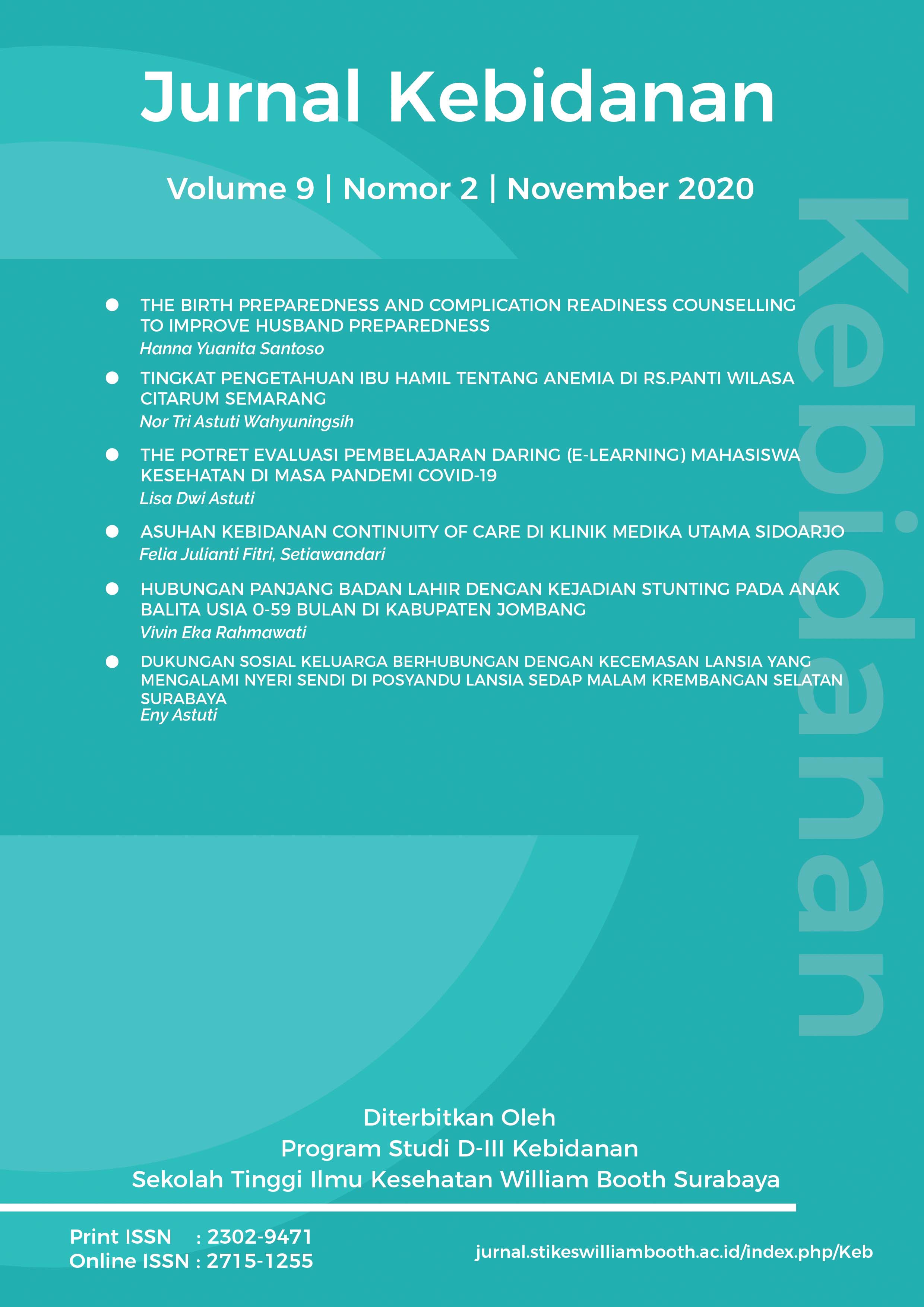 How to Cite
Fitri, F., & setiawandari, S. (2020). ASUHAN KEBIDANAN CONTINUITY OF CARE DI KLINIK MEDIKA UTAMA SIDOARJO. Jurnal Kebidanan, 9(2), 34-43. https://doi.org/10.47560/keb.v9i2.248
The authors who publish this journal agree to the following requirements:
The author retains the copyright and gives the journal rights regarding the first publication with the work being simultaneously licensed below Creative Commons Attribution ShareAlike License which allows others to share the work with an acknowledgment of the author's work and early publications in this journal.
Authors can include separate additional contractual arrangements for the non-exclusive distribution of the journal's published version (for example, send it to an institutional repository or publish it in a book), with an acknowledgment of its initial publication in this Journal.
Authors are permitted and encouraged to post their work online (e.g., at an institutional repository or on their website) before and during the submission process, as this can lead to productive exchanges, as well as excerpts of previously published works.