HUBUNGAN PERAWATAN LUKA PERINEUM DENGAN PENYEMBUHAN LUKA PERINEUM IBU POST PARTUM
Siti Sholikha

Husnul Muthoharoh

Universitas Islam Lamongan
Keywords:
Perineum care, Perineal wounds, Postpartum
Abstract
Labor often result in the birth canal laceration, laceration occurred in nearly all deliveries the first time and not infrequently in the next birth. Resulting in laceration injuries that lead to treatment and should be done so that the perineal wounds can heal normally. This study aimed to determine whether there is a relationship between the perineal wound care with perineal wound healing in post partum. The research design used in this research using correlational analytic methods to the type design Cohort. The population in this study were 27 post partum at BPS Mrs. Aida W., Amd.Keb Dlanggu Village near Lamongan District. Sample was used as many as 26 respondents in accordance with inclusion criteria, and were taken by Simple Random Sampling is, taking samples from members of the population conducted randomly without regard to strata that exist in this population, with a variable is a treatment depedennya perineal wound healing was the independent variable is perineal wound. Data obtained and processed using the Chi square test with  α = 0.05. Results showed that respondents who do care very well and recovered to normal as much as nine respondents (90%), while the treatment is not good and slow recovery is nine respondents (56.2%). From the results of the chi-square test p value = 0.018 where p <0.05. This shows that H0 is rejected. It can be concluded from this study that there is relationship between the perineal wound care perineumnya with healing wounds, so in this case is expected for post partum mothers to be more better in the treatment of wounds can be healed wounds perineumnya supaya to normal.
Downloads
Download data is not yet available.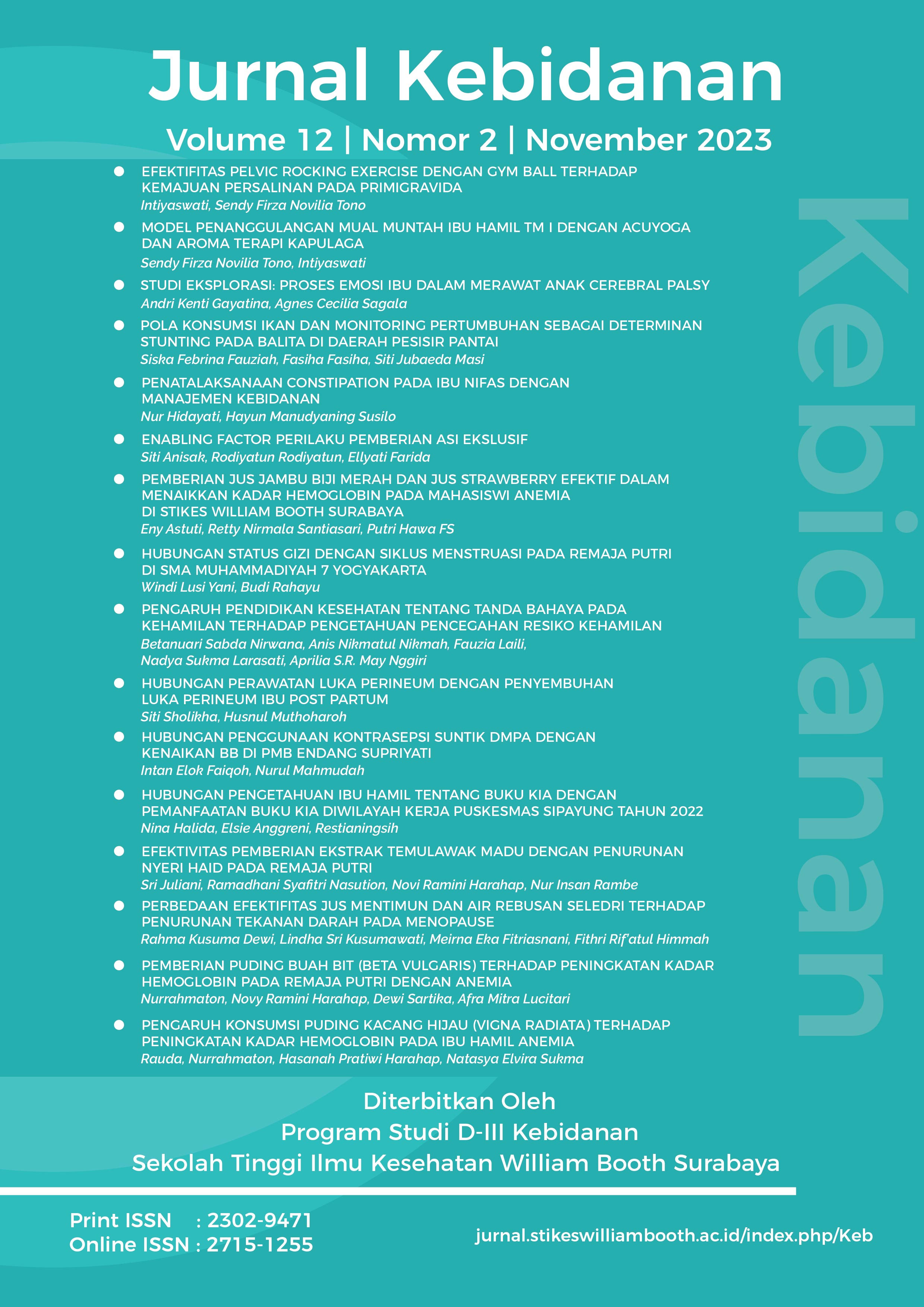 How to Cite
Sholikha, S., & Muthoharoh, H. (2023). HUBUNGAN PERAWATAN LUKA PERINEUM DENGAN PENYEMBUHAN LUKA PERINEUM IBU POST PARTUM. Jurnal Kebidanan, 12(2), 80-88. https://doi.org/10.47560/keb.v12i2.530
Copyright (c) 2023 Jurnal Kebidanan
This work is licensed under a Creative Commons Attribution-ShareAlike 4.0 International License.
The authors who publish this journal agree to the following requirements:
The author retains the copyright and gives the journal rights regarding the first publication with the work being simultaneously licensed below Creative Commons Attribution ShareAlike License which allows others to share the work with an acknowledgment of the author's work and early publications in this journal.
Authors can include separate additional contractual arrangements for the non-exclusive distribution of the journal's published version (for example, send it to an institutional repository or publish it in a book), with an acknowledgment of its initial publication in this Journal.
Authors are permitted and encouraged to post their work online (e.g., at an institutional repository or on their website) before and during the submission process, as this can lead to productive exchanges, as well as excerpts of previously published works.