SEDUHAN BUNGA ROSELLA TERHADAP TEKANAN DARAH PADA HIPERTENSI
Rina Budi Kristiani

Stikes Adi Husada

Sosilo Yobel

Stikes Artha Bodhi Iswara
Keywords:
Rosella Flower Stew, Blood Pressure, Hypertension
Abstract
Hypertension is an increase in blood pressure > 140/90 mmHg is the result obtained with two measurements. Hypertension can be prevented and controlled with non-medical and medical treatment, non-medical treatment including maintaining weight, regulating diet, avoiding alcoholic beverages and cigarettes and steeping rosella flowers. This study aims to see the difference in blood pressure in the control and intervention groups after giving Rosella flower water steeping. The method used is a quasi-experimental pre-post test with a control group of 36 respondents, using a purposive sampling technique to determine the sample, with the intervention group (given rosella flower steeping) totaling 18 respondents and the control group totaling 18 respondents. The data obtained were carried out by the Wilcoxon and Mann Whitney U statistical tests. Data analysis using the Wilcoxon statistical tests in the intervention and control groups showed sig 2 tailed = 0.000 and 0.248 and the Mann Whitney U statistical test showed 0.000 meaning that there was a difference in blood pressure in the control and intervention group respondents. after giving rosella flower steeping. Steeping rosella flowers can be used as an alternative non-drug therapy to control blood pressure in patients with hypertension.
Keywords: Rosella Flower Stew, Blood Pressure, Hypertension
Downloads
Download data is not yet available.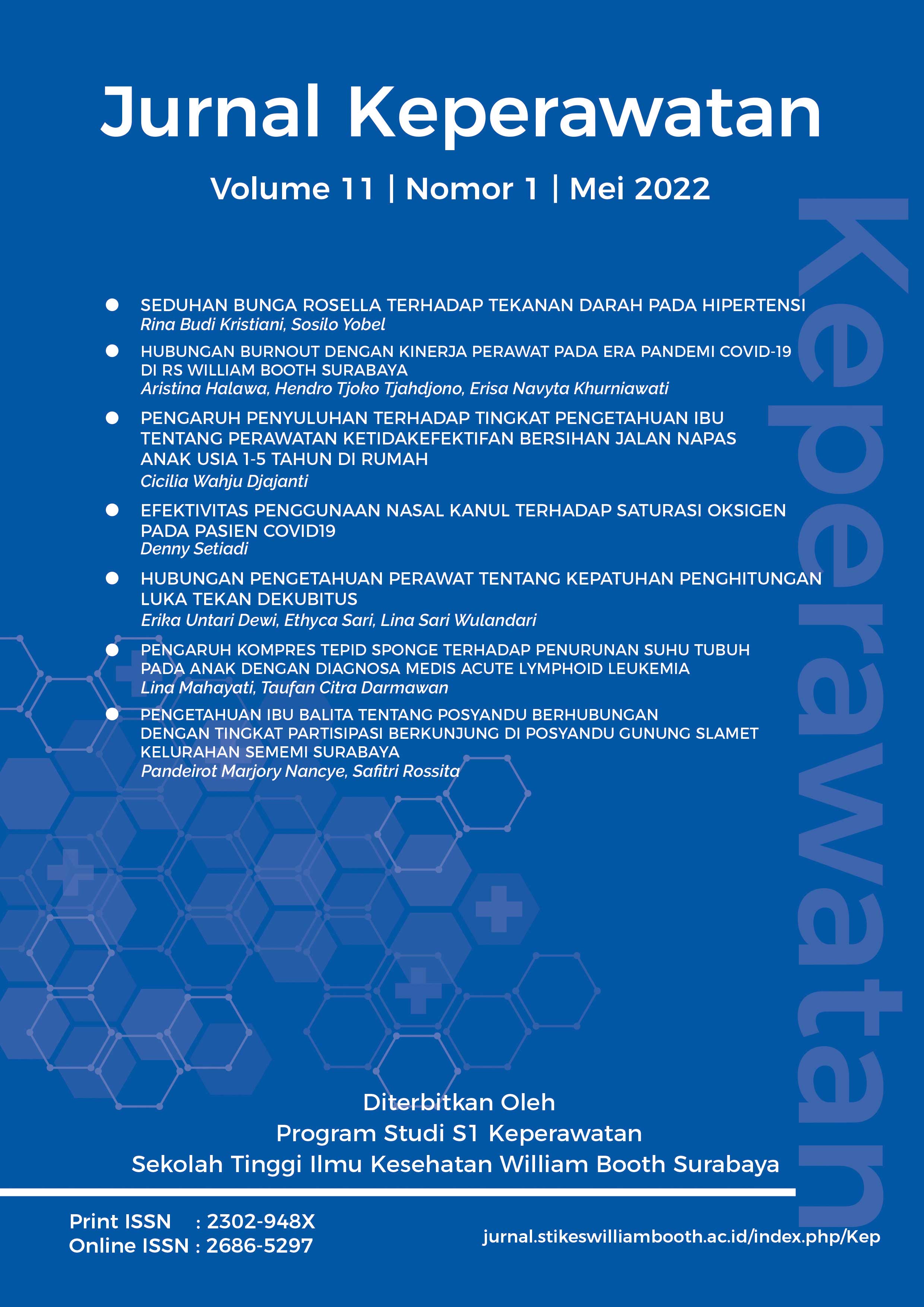 How to Cite
Kristiani, R., & Yobel, S. (2022). SEDUHAN BUNGA ROSELLA TERHADAP TEKANAN DARAH PADA HIPERTENSI. Jurnal Keperawatan, 11(1), 1-5. https://doi.org/10.47560/kep.v11i1.320
The authors who publish this journal agree to the following requirements:
The author retains the copyright and gives the journal rights regarding the first publication with the work being simultaneously licensed below Creative Commons Attribution ShareAlike License which allows others to share the work with an acknowledgment of the author's work and early publications in this journal.
Authors can include separate additional contractual arrangements for the non-exclusive distribution of the journal's published version (for example, send it to an institutional repository or publish it in a book), with an acknowledgment of its initial publication in this Journal.
Authors are permitted and encouraged to post their work online (e.g., at an institutional repository or on their website) before and during the submission process, as this can lead to productive exchanges, as well as excerpts of previously published works.