IMPLEMENTASI DETEKSI KADAR KOLESTEROL PADA WARGA KEDUNG ANYAR II RT 3 RW 12 SURABAYA
Keywords:
Cholesterol, Early detection
Abstract
The importance of awareness to detect cholesterol levels in the blood is a way to recognize the condition of cholesterol levels in the body, with this action, cholesterol levels will be monitored so that prevention can be done before an increase in cholesterol occurs or actions to overcome if cholesterol levels are more than normal, so as not to cause complications. disease caused by hypercholesterolemia. The purpose of this community service activity is to detect cholesterol levels of residents of Kedung Anyar II RT 3 RW 12 Surabaya. The results of the above examination showed that 65.90% (29 respondents) were included in the category of hypercholesterolemia with cholesterol levels > 200 mg/dl and the remaining 34.10% (15 respondents) had normal cholesterol levels. The conclusion of this activity is that this activity is going well, community service activities can be continued in a sustainable manner by routinely observing cholesterol levels in patients. The hope is that with observation, increasing adequate knowledge, prevention and treatment of hypercholesterolemia can be carried out so that complications do not occur.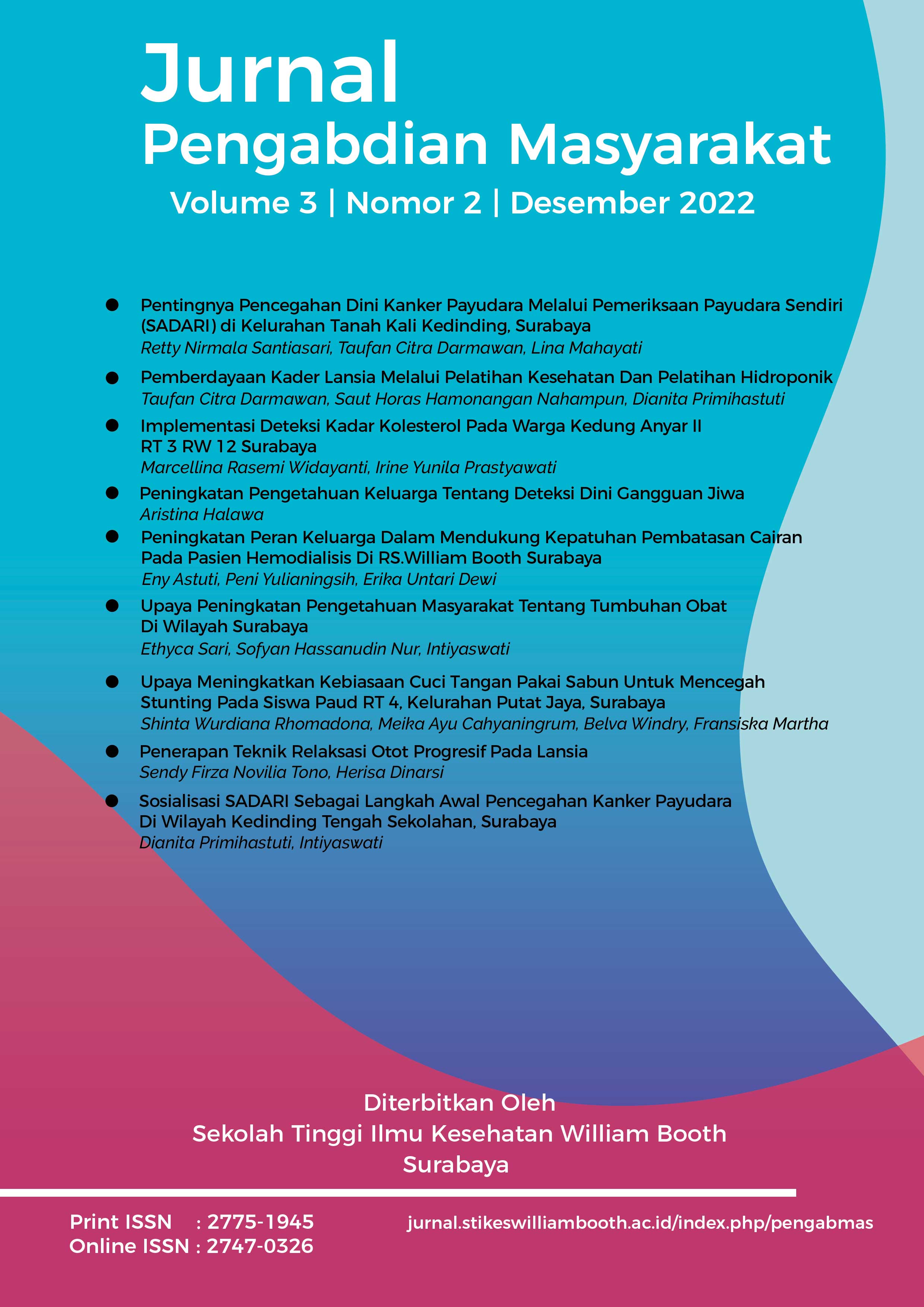 How to Cite
Widayanti, M., & Prastyawati, I. (2022). IMPLEMENTASI DETEKSI KADAR KOLESTEROL PADA WARGA KEDUNG ANYAR II RT 3 RW 12 SURABAYA. Jurnal Pengabdian Masyarakat, 3(2), 12-15. https://doi.org/10.47560/pengabmas.v3i2.372