Faktor-Faktor yang Berhubungan dengan Keikutsertaan Pasangan Usia Subur (PUS) dengan Penggunaan Alat Kontrasepsi di Desa Alamendah Kecamatan Rancabali Kabupaten Bandung
Agustina Ida Pratiwi

Program Studi Diploma III Kebidanan Sekolah Tinggi Ilmu Kesehatan Sint Carolus
Keywords:
Pasangan Usia Subur, Penggunaan Alat Kontrasepsi
Abstract
Indonesia is a country has a very high number of occupations. One of the government's effort to control the population is by using a family planning program. However, the participation rate of Fertile Age Pairs in the use of family planning in Indonesia is not maximal This study aims to determine the factors that influence the participation of Fertile Age Couples in the use of contraceptives. The design in this study was analytic with a cross sectional approach conducted in Rancabali sub-district, Alamendah, Bandung, using primary data by filling out questionnaires. The population in this study were all of the fertile age couples with a total of 228 respondents. The statistical test used is Chi-Square. From the analysis of data from 288 respondents, 210 used Participating in using KB while 78 did not participate. The results of the study concluded that there was a relationship between the variables of knowledge, education and the role of the PLKB and family planning acceptors, while the variables of work, age and husband's support were not related.
Downloads
Download data is not yet available.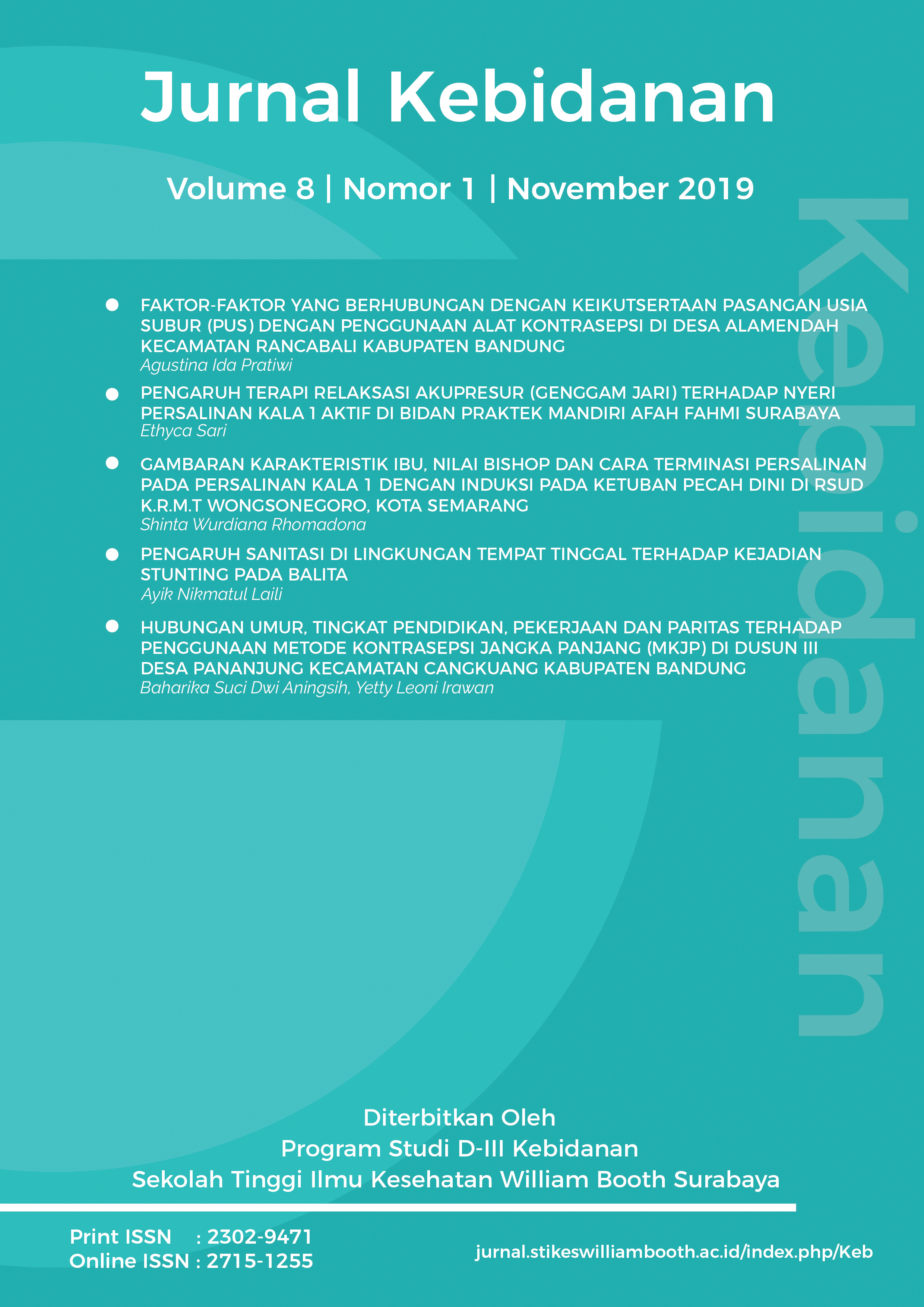 How to Cite
Pratiwi, A. (2019). Faktor-Faktor yang Berhubungan dengan Keikutsertaan Pasangan Usia Subur (PUS) dengan Penggunaan Alat Kontrasepsi di Desa Alamendah Kecamatan Rancabali Kabupaten Bandung. Jurnal Kebidanan, 8(1), 1-11. https://doi.org/10.47560/keb.v8i1.130