STUDI EKSPLORASI: PROSES EMOSI IBU DALAM MERAWAT ANAK CEREBRAL PALSY
Andri Kenti Gayatina

STIKes Elisabeth Semarang

Agnes Cecilia Sagala

STIKes St. Elisabeth
Keywords:
Keywords: Cerebral Palsy, Mother, Emotional processes
Abstract
ABSTRAK
Latar Belakang: Cerebral Palsy adalah kelainan yang diakibatkan karena adanya cedera pada otak. Center for Disease Control and Prevention (CDC) melaporkan bahwa prevalensi CP berkisar 1-4 per 1.000 kelahiran hidup. Penerimaan ibu terhadap masalah emosi dan perilaku anak CP merupakan proses dan tahapan emosi ibu dalam merawat anak CP. Ibu yang memiliki anak dengan CP awalnya memiliki tahap proses penerimaan yang berbeda, hingga sampai pada tahap acceptence. Hal ini menyebabkan penting bagi seorang ibu dalam mengatur emosi. Tujuan dari penelitian ini adalah mengetahui proses dan tahapan emosi ibu dalam merawat anak CP.
Metode: Penelitian ini merupakan penelitian kualitatif dengan pendekatan studi fenomenologi. Penelitian dilaksanakan di YPAC (Yayasan Penyandang Anak Cacat) Semarang. Partisipan sebanyak 3 ibu yang dipilih menggunakan teknik purposive sampling yang memiliki anak CP dengan klasifikasi sedang dengan usia 0-18 tahun dan merawatnya sendiri. Pengambilan data dengan melakukan wawancara mendalam menggunakan pedoman wawancara. Hasil wawancara dibuat transkrip dan dianalisis menggunakan metode Colaizzi.
Hasil: Hasil penelitian menghasilkan 4 tema yaitu 1) Proses pertama: Mengatur Emosi melalui Penerimaan, Sikap Ikhlas, dan Penguatan Keyakinan. 2) Proses kedua: Ibu mengutamakan ketenangan dalam menghadapi stres, kritik, dan emosi negatif. 3) Proses Ketiga: Mama meluapkan emosi pada anak yang tidak menurutinya dengan kata-kata "memasukkan anak kepanti asuhan, mendiamkan anak, dan memberikan es batu". 4) Proses keempat: Rasa bersalah ibu dengan meminta maaf setalah memarahi anak.
Simpulan: Pengalaman ibu yang dialami selama merawat anak CP memunculkan berbagai proses dan tahapan emosi ibu dalam merawat anak CP.
ABSTRACT
Introduction: Cerebral Palsy is a disorder caused by injury to the brain. The Center for Disease Control and Prevention (CDC) reports that the prevalence of CP ranges from 1-4 per 1,000 live births. The mother's acceptance of the emotional and behavioral problems of the child with CP is a process and stage of the mother's emotions in caring for the child with CP. Mothers who have children with CP initially have different stages of the acceptance process, until they reach the acceptance stage. This makes it important for a mother to regulate emotions. The aim of this research is to determine the emotional processes and stages of mothers in caring for children with CP.
Method: This research is qualitative research with a phenomenological study approach. The research was carried out at YPAC (Foundation for Disabled Children) Semarang. Participants were 3 mothers selected using a purposive sampling technique who had moderately classified CP children aged 0-18 years and looked after them themselves. Data were collected by conducting in-depth interviews using interview guidelines. The results of the interviews were transcribed and analyzed using the Colaizzi method.
Results: The research results produced 4 themes, namely 1) First process: Regulating Emotions through Acceptance, Sincere Attitude, and Strengthening Beliefs. 2) Second process: Mother prioritizes calm in dealing with stress, criticism and negative emotions. 3) Third Process: The mother expresses her emotions towards the child who does not comply with the words "put the child in an orphanage, quiet the child, and give him ice cubes." 4) Fourth process: The mother feels guilty by apologizing after scolding the child.
Conclusion: Mothers' experiences while caring for children with CP give rise to various emotional processes and stages for mothers in caring for children with CP.
Downloads
Download data is not yet available.
References
Arifah, Isnaini & Mei. 2018. Penerimaan Ibu Terhadap Masalah Emosi Dan Perilaku Anak Cerebral Palsy Di Griya Fisio Bunda Novy Yogyakarta, https://etd.repository.ugm.ac.id/penelitian/detail/155783

Cahyani & Amalia R. 2015. Penerimaan diri ibu dengan anak berkebutuhan khusus di Mojokerto, http://etheses.uin-malang.ac.id/3136/


Garfield J. 2010. Family Priorities for Activity and Participation of Children and Youth With Cerebral Palsy. J Am Phys Ther Assoc, https://pubmed.ncbi.nlm.nih.gov/20576716/


Guyard A, Michelsen SI, dkk. 2017. Family adaptation to cerebral palsy in adolescents: A European multicenter study. Res Dev Disabil, https://pubmed.ncbi.nlm.nih.gov/28087202/

Ikasari A, Kristiana. 2018. Hubungan Antara Regulasi Emosi Dengan Stres Pengasuhan Ibu Yang Memiliki Anak Cerebral Palsy. J Empati., https://ejournal3.undip.ac.id/index.php/empati/article/view/20101

Inayah Putri, Suwarni E, & Novianti M. 2020. Pengaruh Penerimaan Diri terhadap Tingkat Stres pada anak Cerebal Palsy di Yayasan Sayap Ibu Banten (Unit Pelayanan Disabilitas) Tangerang Selatang. J Pemikir dan Penelit Psikol, https://eprints.uai.ac.id/1923/

Islamiyah & Riza. 2022. Gambaran Regulasi Emosi Pada Ibu Dengan Anak Disleksia. Jurnal Penelitian Psikologi, https://ejournal.unesa.ac.id/index.php/character/article/view/47023

Krstić T, Mihić L, Mihić I. 2015. Stress and resolution in mothers of children with cerebral palsy. Res Dev Disabil, https://pubmed.ncbi.nlm.nih.gov/26421350/

Nurfadilla HN, Gamayani U, Dewi Nasution. 2018. Komorbiditas Pada Penyandang Cerebral Palsy (Cp) Di Sekolah Luar Biasa (Slb). J Apl Ipteks untuk Masy, http://jurnal.unpad.ac.id/dharmakarya/article/view/19403

Pohan, Andini dkk., 2023. Gambaran Regulasi Emosi Pada Ibu Yang Memiliki Anak Berkebutuhan Khusus. Jurnal Kajian Konseling dan Pendidikan, https://jurnal.umsu.ac.id/index.php/biblio/article/view/12688

Rif'ati, Mas & Suryanto. 2018. Pola Regulasi Emosi Orang Tua Dengan Anak Temper Tantrum. Temu Ilmiah Nasional Ikatan Psikologi Sosial, https://www.researchgate.net/publication/328886344_Pola_Regulasi_Emosi_Orang_Tua_Dengan_Anak_Temper_Tantrum

Riskesdas Jawa Tengah. Laporan Provinsi Jawa Tengah Riskesdas 2018. Kementerian Kesehatan RI, https://dinkesjatengprov.go.id/v2018/storage/2019/12/CETAK-LAPORAN-RISKESDAS-JATENG-2018-ACC-PIMRED.pdf


Siregar, Christian. 2012. Menyembuhkan Luka Batin Dengan Memaafkan. Jurusan Psikologi, Faculty of Humanities, https://media.neliti.com/media/publications/166841-ID-menyembuhkan-luka-batin-dengan-memaafkan.pdf

Siron, Yubaedi, dkk., 2020. Bagaimana Menjadi Orang Tua Anak dengan Cerebral Palsy? A Parent Acceptance. Journal of Islamic Early Childhood Education, https://journal.iainlangsa.ac.id/index.php/atfaluna/article/view/1795

Sobariyah AM, Prasojo S. 2020. Literature Review: Gambaran Task Oriented Training Terhadap Keseimbangan Berdiri Pada. Naskah Publ Progr Stud Sarj Fisioter, https://www.researchgate.net/journal/JURNAL-KEPERAWATAN-DAN-FISIOTERAPI-JKF-2655-0830?_tp=eyJjb250ZXh0Ijp7ImZpcnN0UGFnZSI6InB1YmxpY2F0aW9uIiwicGFnZSI6InB1YmxpY2F0aW9uIn19

Wati, Dewi & Intan. 2018. Kekerasan Terhadap Anak, Penanaman Disiplin, Dan Regulasi Emosi Orang Tua. Varia Pendidikan, https://journals.ums.ac.id/index.php/varidika/article/view/6541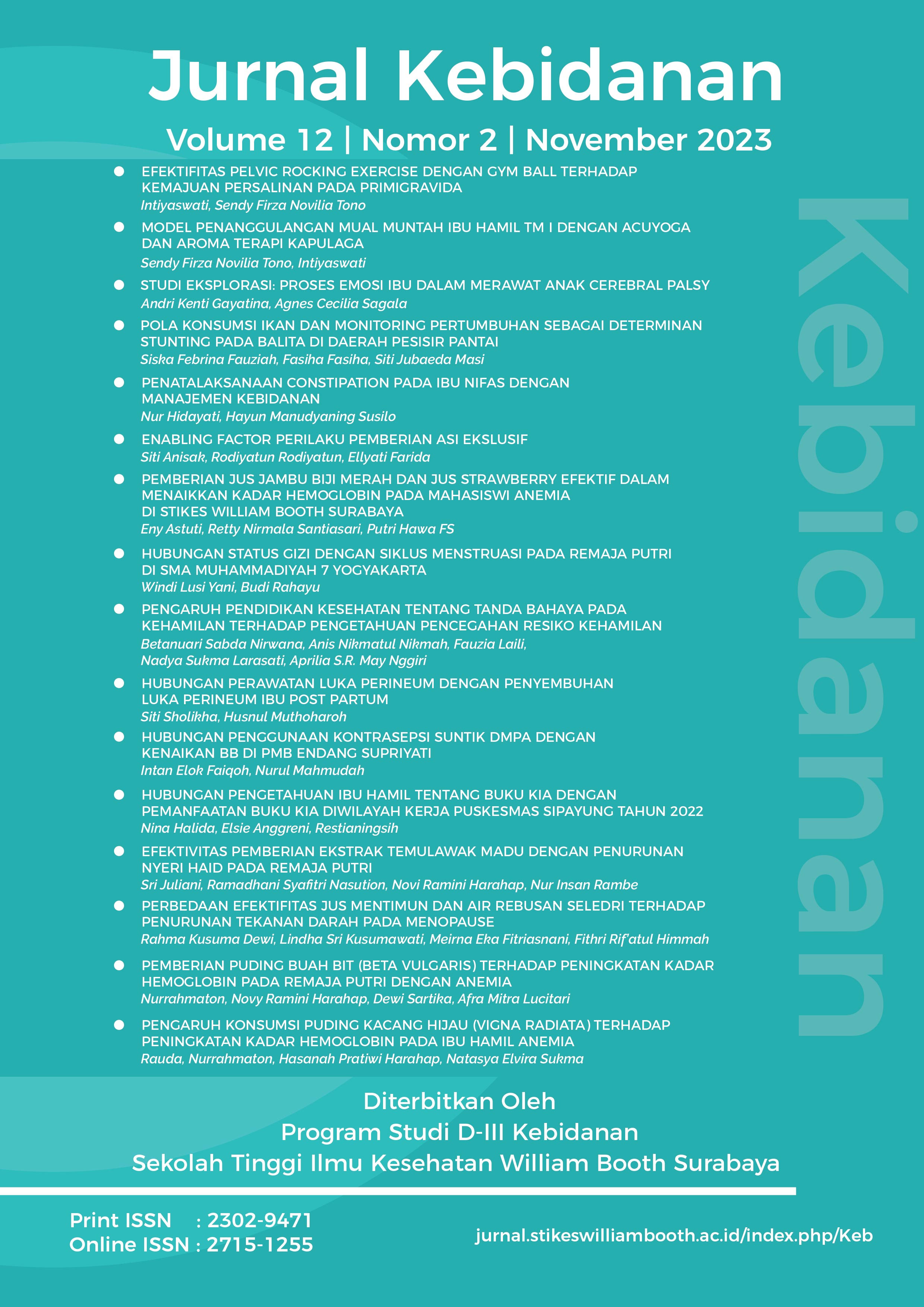 How to Cite
Gayatina, A., & Sagala, A. (2023). STUDI EKSPLORASI: PROSES EMOSI IBU DALAM MERAWAT ANAK CEREBRAL PALSY. Jurnal Kebidanan, 12(2), 23-28. https://doi.org/10.47560/keb.v12i2.522
Copyright (c) 2023 Jurnal Kebidanan
This work is licensed under a Creative Commons Attribution-ShareAlike 4.0 International License.
The authors who publish this journal agree to the following requirements:
The author retains the copyright and gives the journal rights regarding the first publication with the work being simultaneously licensed below Creative Commons Attribution ShareAlike License which allows others to share the work with an acknowledgment of the author's work and early publications in this journal.
Authors can include separate additional contractual arrangements for the non-exclusive distribution of the journal's published version (for example, send it to an institutional repository or publish it in a book), with an acknowledgment of its initial publication in this Journal.
Authors are permitted and encouraged to post their work online (e.g., at an institutional repository or on their website) before and during the submission process, as this can lead to productive exchanges, as well as excerpts of previously published works.