ENABLING FACTOR PERILAKU PEMBERIAN ASI EKSLUSIF
Siti Anisak

Poltekkes Kemenkes Surabaya

Rodiyatun Rodiyatun

Poltekkes Kemenkes Surabaya

Ellyati Farida

Poltekkes Kemenkes Surabaya
Keywords:
Faktor Pemungkin, Kondisi kesehatan ibu, Perilaku, Asi Ekslusif
Abstract
Pemberian ASI eksklusif adalah cara yang paling tepat untuk memenuhi nutrisi bayi dalam 6 bulan pertama kehidupan bayi dan terdapat bukti yang nyata bahwa menyusui memiliki manfaat kesehatan jangka pendek serta jangka panjang bagi wanita maupun bayi. ASI ekslusif saat ini menjadi satu satunya intervensi spesifik untuk menurunkan angka stunting di Indonesia yang belum tercapai. Cakupan pemberian ASI ekslusif di Indonesia saat ini belum mengalami peningkatan dan bahkan stagnan di angka 52%. Perilaku pemberian ASI Ekslusif dipengaruhi oleh faktor predisposisi, faktor pemungkin dan faktor penguat. Penelitian ini bertujuan untuk menganalisis faktor pemungkin dalam perilaku pemberian ASI ekslusif di wilayah kerja Puskesmas Bangkalan. Desain penelitian yang digunakan adalah Cross-sectional dengan populasi seluruh ibu yang mempunyai bayi usia 7 sampai 12 bulan di wilayah kerja Puskesmas Bangkalan. Sampel diambil menggunakan Cluster Random Sampling dan diperoleh 101 orang sampel. Data dikumpulkan menggunakan kuesioner dan dianalisa menggunakan uji chi Square dan regresi logistik. Faktor pemungkin yang berpengaruh terhadap perilaku pemberian ASI ekslusif adalah kondisi kesehatan ibu. Kondisi kesehatan ibu yang menunjang perilaku pemberian ASI ekslusif adalah kesehatan fisik dan mental ibu.
Downloads
Download data is not yet available.
References
Ahmed, Kedir Y., Andrew Page, Amit Arora, and Felix Akpojene Ogbo. 2019. "Trends and Determinants of Early Initiation of Breastfeeding and Exclusive Breastfeeding in Ethiopia from 2000 to 2016." International Breastfeeding Journal 14(1):1–14. doi: 10.1186/s13006-019-0234-9.
Anisak, Siti, Ellyati Farida, and Rodiyatun Rodiyatun. 2022. "Faktor Predisposisi Perilaku Ibu Dalam Pemberian ASI Ekslusif." Jurnal Kebidanan 12(1):34–46. doi 10.35874/jib.v12i1.1009.
Channell Doig, Amara, Michelle Jasczynski, Jamie L. Fleishman, and Elizabeth M. Aparicio. 2020. "Breastfeeding Among Mothers Who Have Experienced Childhood Maltreatment: A Review." Journal of Human Lactation 36(4):710–22. doi: 10.1177/0890334420950257.
Chen, Cheng, Yan Yan, Xiao Gao, Shiting Xiang, Qiong He, Guangyu Zeng, Shiping Liu, Tingting Sha, and Ling Li. 2018. "Influences of Cesarean Delivery on Breastfeeding Practices and Duration: A Prospective Cohort Study." Journal of Human Lactation 34(3):526–34. doi: 10.1177/0890334417741434.
Dinas Kesehatan Daerah Istimewa Yogyakarta. 2023. Pekan Menyusui Sedunia: Update Indonesia.
Elsanti, Devita, and Oni Putri Isnaini. 2018. "Hubungan Antara Dukungan Sosial Dan Tingkat Stres Terhadap Keberlangsungan Pemberian ASI Ekslusif Di Wilayah Kerja Puskesmas Kedungbanteng." Jurnal Ilmu Keperawatan Maternitas 1(1):13–25. doi: 10.32584/jikm.v1i1.105.
Fitriyani Wijayanti, Ani Margawati, and Mohammad Zen Rahfiludin. 2023. "Tingkat Pengetahuan, Sikap, Dan Dukungan Atasan Tentang Pemberian Asi Eksklusif Pada Tenaga Kesehatan Dan Non Kesehatan." Journal of Telenursing (JOTING) 5(2):2355–62.
Gila-Díaz, Andrea, Gloria Herranz Carrillo, Ángel Luis López de Pablo, Silvia M. Arribas, and David Ramiro-Cortijo. 2020. "Association between Maternal Postpartum Depression, Stress, Optimism, and Breastfeeding Pattern in the First Six Months." International Journal of Environmental Research and Public Health 17(19):1–13. doi: 10.3390/ijerph17197153.
Herdiani, Rini, and Nabila Ulfa. 2020. "Hubungan Pekerjaan, Paritas Dan Dukungan Petugas Kesehatan Terhadap Pemberian Asi Esklusif." Jurnal 'Aisyiyah Medika 4:165–73. doi: 10.36729/jam.v4i2.217.
Naah, Anthony Mwinilanaa Tampah, Akwasi Kumi Kyereme, and Joshua Amo Adjei. 2019. "Maternal Challenges of Exclusive Breastfeeding and Complementary Feeding in Ghana." PLos ONE 14(5):1–16.
Rani, Hamima, Moch. Yunus, Septa Katmawanti, and Hartati Eko Wardani. 2022. "Systematic Literature Review Determinan Pemberian ASI Eksklusif Di Indonesia." Sport Science and Health 4(4):376–94. doi: 10.17977/um062v4i42022p376-394.
Saadong, Djuhadiah, Suriani B, Nurjaya Nurjaya, and Subriah Subriah. 2021. "BBLR, Pemberian ASI Eksklusif, Pendapatan Keluarga, Dan Penyakit Infeksi Berhubungan Dengan Kejadian Stunting." Jurnal Kesehatan Manarang 7(Khusus):52. doi: 10.33490/jkm.v7ikhusus.374.
Setianingrum, Devi Rahmawati, Yuni Puji Widiastuti, and Istioningsih. 2018. "Faktor-Faktor Yang Berhubungan Dengan Pemberian ASI Ekslusif Pada Ibu Bekerja." Jurnal Keperawatan 10(3):187.
Springall, Tanisha L., Helen L. McLachlan, Della A. Forster, Jennifer Browne, and Catherine Chamberlain. 2023. "Breastfeeding Rates of Aboriginal and Torres Strait Islander Women in Australia: A Systematic Review and Narrative Analysis." Women and Birth 35(6):e624–38.
Tiyas, Dwi Wahyuning, Bhisma Murti, and Dono Indarto. 2016. "Qualitative Analysis on the Factors Affecting Exclusive Breastfeeding among Working Mothers at Community Health Center in Bangkalan, Madura." Journal of Maternal and Child Health 1(2):110–18. doi: 10.26911/thejmch.2016.01.02.06.
Victora, Cesar G., Rajiv Bahl, Aluísio J. D. Barros, Giovanny V. A. França, Susan Horton, Julia Krasevec, Simon Murch, Mari Jeeva Sankar, Neff Walker, Nigel C. Rollins, K. Allen, S. Dharmage, C. Lodge, K. G. Peres, N. Bhandari, Ranadip Chowdhury, B. Sinha, S. Taneja, Elsa Giugliani, B. Horta, F. Maia, C. L. de Mola, N. Hajeebhoy, C. Lutter, E. Piwoz, J. C. Martines, and L. Richter. 2016. "Breastfeeding in the 21st Century: Epidemiology, Mechanisms, and Lifelong Effect." The Lancet 387(10017):475–90. doi: 10.1016/S0140-6736(15)01024-7.
Wang, Ying, Carrie Ellen Briere, Wanli Xu, and Xiaomei Cong. 2019. "Factors Affecting Breastfeeding Outcomes at Six Months in Preterm Infants." Journal of Human Lactation 35(1):80–89. doi: 10.1177/0890334418771307.
WHO. 2023. Breastfeeding.
Wijayanti, Fitriyani, Ani Margawati, and Mohammad Zen Rahfiludin. 2023. "Faktor-Faktor Dalam Pekerjaan Ibu Yang Menghambat Pemberian Asi Eksklusif (Studi Literatur)." Al-Insyirah Midwifery 12(1):46–55.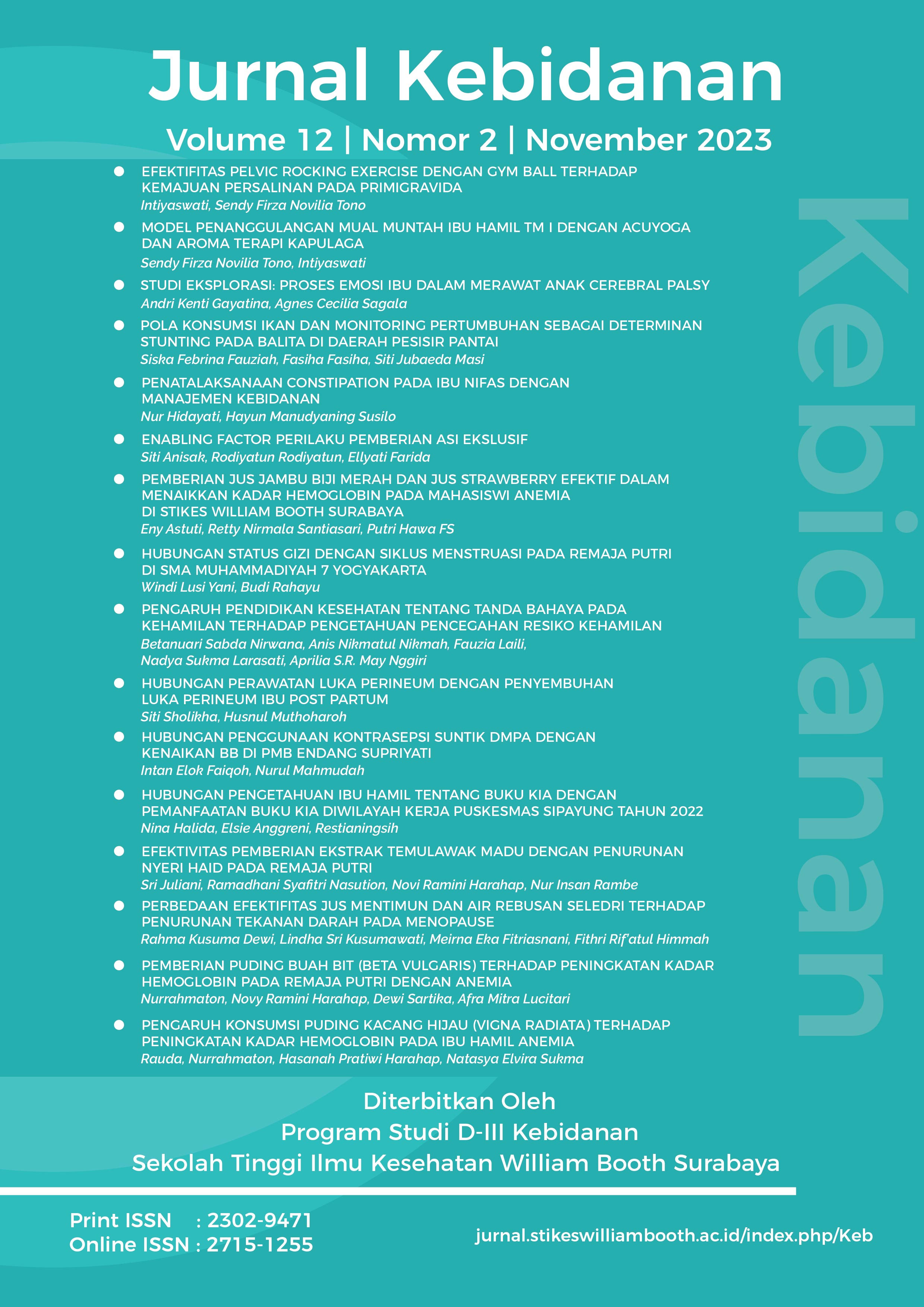 How to Cite
Anisak, S., Rodiyatun, R., & Farida, E. (2023). ENABLING FACTOR PERILAKU PEMBERIAN ASI EKSLUSIF. Jurnal Kebidanan, 12(2), 50-60. https://doi.org/10.47560/keb.v12i2.526
Copyright (c) 2023 Jurnal Kebidanan
This work is licensed under a Creative Commons Attribution-ShareAlike 4.0 International License.
The authors who publish this journal agree to the following requirements:
The author retains the copyright and gives the journal rights regarding the first publication with the work being simultaneously licensed below Creative Commons Attribution ShareAlike License which allows others to share the work with an acknowledgment of the author's work and early publications in this journal.
Authors can include separate additional contractual arrangements for the non-exclusive distribution of the journal's published version (for example, send it to an institutional repository or publish it in a book), with an acknowledgment of its initial publication in this Journal.
Authors are permitted and encouraged to post their work online (e.g., at an institutional repository or on their website) before and during the submission process, as this can lead to productive exchanges, as well as excerpts of previously published works.