Uji Coba Instrumen Pengkajian Keperawatan Medikal Bedah Berbasis Pola Fungsional Kesehatan Gordon
Aprilia Nuryanti

Stikes Dirgahayu Samarinda
Keywords:
Kata kunci: instrumen pengkajian keperawatan, mutu dokumentasi keperawatan, pola fungsional kesehatan Gordon
Abstract
Banyak teori yang digunakan dalam pengkajian keperawatan. Beberapa mengadopsi satu teori, yang lain menggabungkan beberapa teori. Fungsi Kesehatan Gordon memiliki 11 pola kehidupan manusia dan dapat menilai masalah atau kebutuhan perawatan pasien. Tujuan penelitian ini adalah untuk menguji kualitas instrumen pengkajian keperawatan dan kualitas dokumentasi yang digunakan mahasiswa saat bedah keperawatan medik dalam praktik klinis. Penelitian ini merupakan penelitian analitik pra eksperimental (one shot case study). Subjek dalam penelitian ini sebanyak 96 siswa untuk menilai kualitas instrumen pengkajian keperawatan dan 89 dokumen asuhan keperawatan yang ditulis oleh siswa tingkat III untuk menilai kualitas dokumentasi. Kuesioner skala likert dan daftar observasi digunakan. Penelitian dilaksanakan di STIKES Dirgahayu Samarinda dari bulan April sampai Juli 2019. Mutu dokumentasi pengkajian keperawatan sebagian besar dalam kategori baik. Beberapa komponen dalam kategori cukup yaitu akurasi pada riwayat kesehatan dahulu (58,43%), kelengkapan pada kajian metabolik nutrisi (75,28%), kajian pola aktivitas latihan (75,28%), dan pemeriksaan fisik dimana tiga aspek dalam kategori cukup (69,66%). Mutu instrumen dinilai dalam kategori baik pada ketiga aspek functionality, usability dan efficiency (>76%). Pola fungsional kesehatan menurut Gordon sesuai untuk diterapkan dan dapat dikembangkan untuk pengkajian keperawatan yang baik.
Downloads
Download data is not yet available.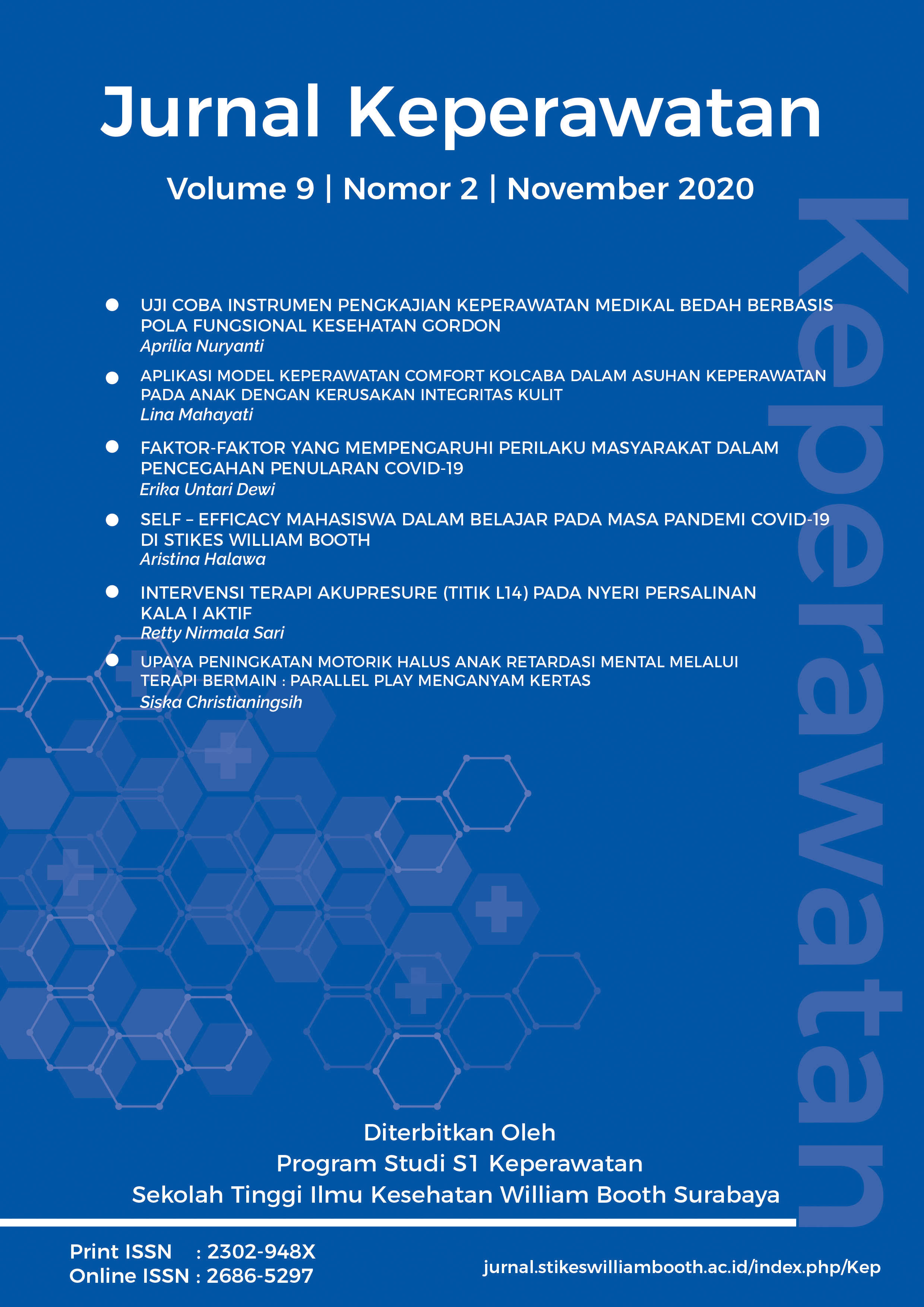 How to Cite
Nuryanti, A. (2020). Uji Coba Instrumen Pengkajian Keperawatan Medikal Bedah Berbasis Pola Fungsional Kesehatan Gordon. Jurnal Keperawatan, 9(2), 1-10. https://doi.org/10.47560/kep.v9i2.243
The authors who publish this journal agree to the following requirements:
The author retains the copyright and gives the journal rights regarding the first publication with the work being simultaneously licensed below Creative Commons Attribution ShareAlike License which allows others to share the work with an acknowledgment of the author's work and early publications in this journal.
Authors can include separate additional contractual arrangements for the non-exclusive distribution of the journal's published version (for example, send it to an institutional repository or publish it in a book), with an acknowledgment of its initial publication in this Journal.
Authors are permitted and encouraged to post their work online (e.g., at an institutional repository or on their website) before and during the submission process, as this can lead to productive exchanges, as well as excerpts of previously published works.