EFEKTIVITAS PENGGUNAAN NASAL KANUL TERHADAP SATURASI OKSIGEN PADA PASIEN COVID19
Denny Setiadi

Universitas Indonesia Maju
Keywords:
covid 19, nasal kanul, saturasi oksigen
Abstract
Covid 19 atau disebut juga Coronavirus adalah penyakit yang disebabkan oleh SARS-CoV-2 dan bersifat menular. Virus corona menyerang saluran pernapasan yang dapat menyebabkan penurunan kadar oksigen yang tidak terduga. Penggunaan kanula hidung menjadi pilihan dalam memenuhi kebutuhan oksigen pasien virus corona dengan protes ringan hingga langsung. Penelitian ini bertujuan untuk menentukan kecukupan pemanfaatan kanula hidung pada oksigen imersi pada pasien virus corona di RS Fatmawati. Strategi eksplorasi menggunakan one gathering pretest-posttest plan tanpa menggunakan benchmark group, metode pemeriksaan adalah Complete Examining menggunakan uji Wilcoxon, disusul dengan overall direct model-rehashed measure, jumlah responden adalah 17 orang. Nilai normal perendaman oksigen sebelum diberikan perawatan oksigen kanula hidung adalah 92,24% dan nilai perendaman oksigen setelah diberikan kanula hidung adalah 98,24%. Hal ini cenderung terlihat bahwa ada perbedaan kritis antara saat diberikan kanula hidung dengan perkiraan imersi setelah diberikan kanula hidung, nilai p (0,000) < (0,05). Sehingga cenderung diduga ada kecukupan positif pemanfaatan kanula hidung pada perendaman oksigen pada pasien virus corona.
Downloads
Download data is not yet available.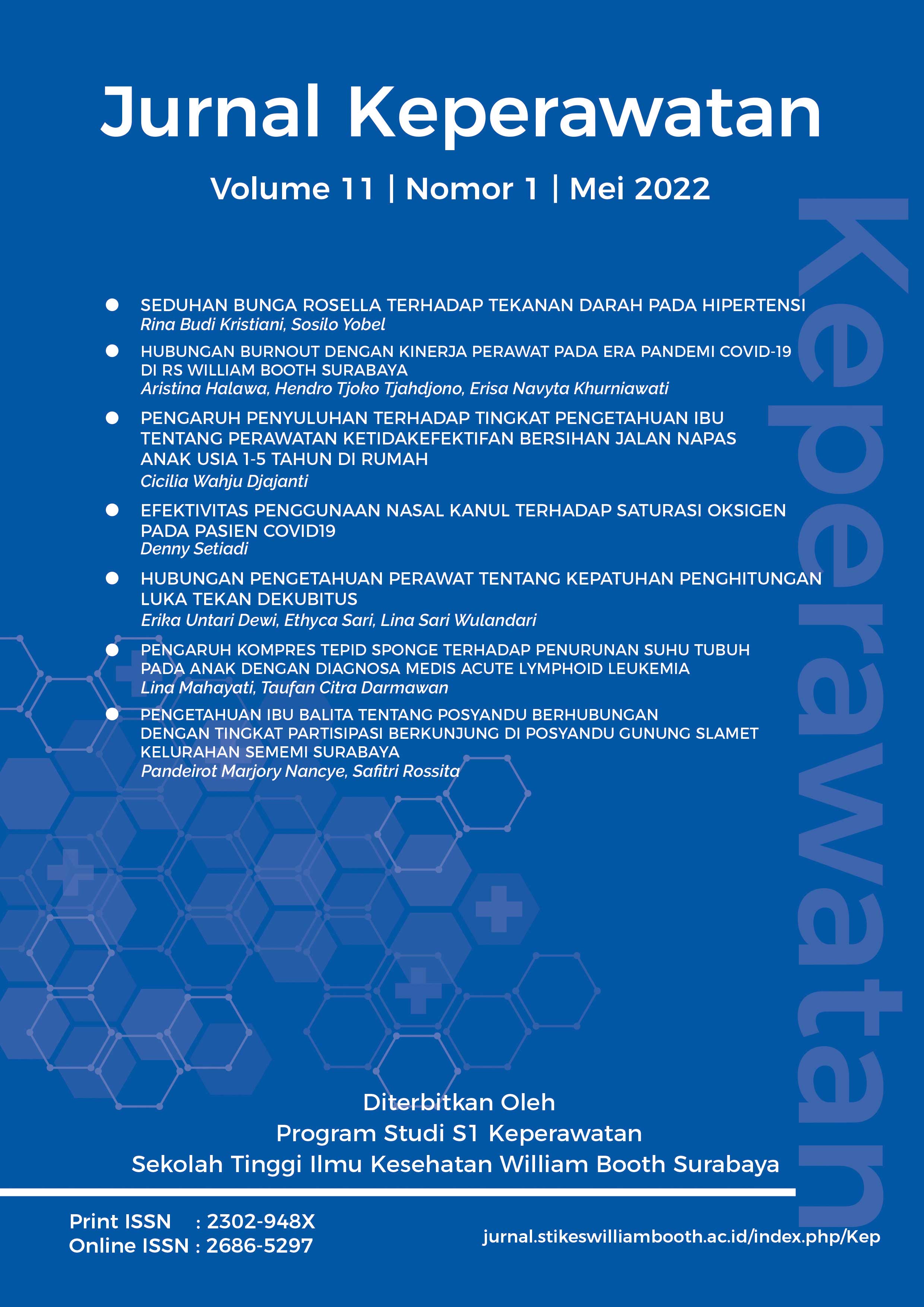 How to Cite
Setiadi, D. (2022). EFEKTIVITAS PENGGUNAAN NASAL KANUL TERHADAP SATURASI OKSIGEN PADA PASIEN COVID19. Jurnal Keperawatan, 11(1), 26-31. https://doi.org/10.47560/kep.v11i1.308
The authors who publish this journal agree to the following requirements:
The author retains the copyright and gives the journal rights regarding the first publication with the work being simultaneously licensed below Creative Commons Attribution ShareAlike License which allows others to share the work with an acknowledgment of the author's work and early publications in this journal.
Authors can include separate additional contractual arrangements for the non-exclusive distribution of the journal's published version (for example, send it to an institutional repository or publish it in a book), with an acknowledgment of its initial publication in this Journal.
Authors are permitted and encouraged to post their work online (e.g., at an institutional repository or on their website) before and during the submission process, as this can lead to productive exchanges, as well as excerpts of previously published works.