DETERMINAN HIPERTENSI DI KABUPATEN MINAHASA SULAWESI UTARA
Marini Podayow

Jeini Ester Nelwan

Sam Ratulangi University

Eva Marianne Mantjoro

Wulan Pingkan Julia Kaunang

Ardiansa A.T. Tucunan
Keywords:
Hypertension, Age, Gender, Nutritional Status
Abstract
Hypertension or what is often called high blood pressure usually occurs at systolic blood pressure ≥140mmHg and diastolic blood pressure ≥90mmHg. Hypertension has several factors that can trigger (determinant) the occurrence of hypertension, including the risk factors of age, gender and nutritional status. This study aims to determine the determinants of hypertension in Minahasa District, North Sulawesi Province. This is an observational study with a cross-sectional approach. The sample used was 110 respondents. The sampling method is simple random method. The variables studied were the incidence of hypertension, age, gender and nutritional status. This study used form sheets, tensimeters, height meters, weight scales, and computers. The statistical test used was the chi square test with a significance level of 95% (α = 0.05). The results showed that there was a correlation between age and hypertension (p-value = 0.002), and there was no correlation between gender and hypertension (p-value = 0.819) and there was a correlation between nutritional status and hypertension (p value = 0.003). It can be concluded that age and nutritional status were determinants of the incidence of hypertension in Minahasa Regency.
Downloads
Download data is not yet available.
References
Darmawan R, Tamrin A, Nadimin N. 2018 Hubungan Antara Natrium dan Status Gizi terhadap Tingkat Hipertensi pada Pasien Rawat Jalan di RSUD Kota Makassar. (online) (https://www.neliti.com/publications/265336/hubungan-asupan-natrium-dan-status-gizi-terhadap-tingkat-hipertensi-pada-pasien#id-section-content ). Diakses 11 Juli 2022
Hasan. A. M. 2017. Faktor-faktor yang berhubungan dengan Kejadian Hipertensi di Puskesmas Makrayu Kecamatan Ilir Barat II Palembang.
Kembuan IY, Grace Kandou, WPJ Kaunang. 2016. Hubungan Obsitas dengan Penyakit Hipertensi pada Pasien Poliklinik Puskesmas Touluaan Kabupaten Minahasa Tenggara. (online) https://www.semanticscholar.org/paper/HUBUNGAN-OBESITAS-DENGAN-PENYAKIT-HIPERTENSI-PADA-Kembuan-Kandou/96451e612b9324797fc105ca9d0ec768b0f80982 diakses 13 Januari 2023
Mulidina F, Harmani R, Suraya I. 2019. Faktor-faktor yang Berhubungan dengan Kejadian Hipertensi di Wilayah Kerja Puskesmas Jati Luhur Bekasi.
Rifiani,N,Sulihandari,H,Hamid,Q. 2017. Jus Dahsyat Tumpas Penyakit, Sehat & awet muda. Yogyakarta: Cemerlang Publishing
Riskesdas. 2018. (online) (http://www.depkes.go.id/resources/download/info-terkini/hasil-riskesdas-2018.pdf ) Diakses 18 September 2019.
Rosadi D, Hildawati N. 2021. Analisis Faktor RisikoKejadian Hipertensi Pada Masyarakat di wilayah kerja Puskesmas Sunai Raya Kabupaten Hulu Sungai Selatan. (online). https://ejournal2.litbang.kemkes.go.id/index.php/jhecds/article/view/5054 . Diakses 11 Juli 2022.
Suryani N. 2020. Hubungan Status Gizi, Aktivitas Fisik, Konsumsi Buah dan Sayur dengan Kejadian Hipertensi di Poliklinik Penyakit Dalam RSD Idaman Baru Kota Banjarbaru.(online) (https://journal.stikeshb.ac.id/index.php/jurkessia/article/view/262 ). diakses 11 Juli 2022
Tamamilang CD, Grace Kandou dan Jeini Nelwan 2018. Hubungan antara Umur, dan Aktivitas Fisik dengan Derajat Hipertensi di Kota Bitung Sulawesi Utara. (online) (https://ejournal.unsrat.ac.id/index.php/kesmas/article/view/22132) diakses 7 April 2022
WHO. 2018. Noncommunicable Disease (NDC). Diakses 18 September 2019. https://www.who.int/news-room/fact-sheets/detail/noncommunicable-diseases
WHO. 2022. Hypertension. Diakses 20 November 2022. https://www.who.int/news-room/fact-sheets/detail/hypertension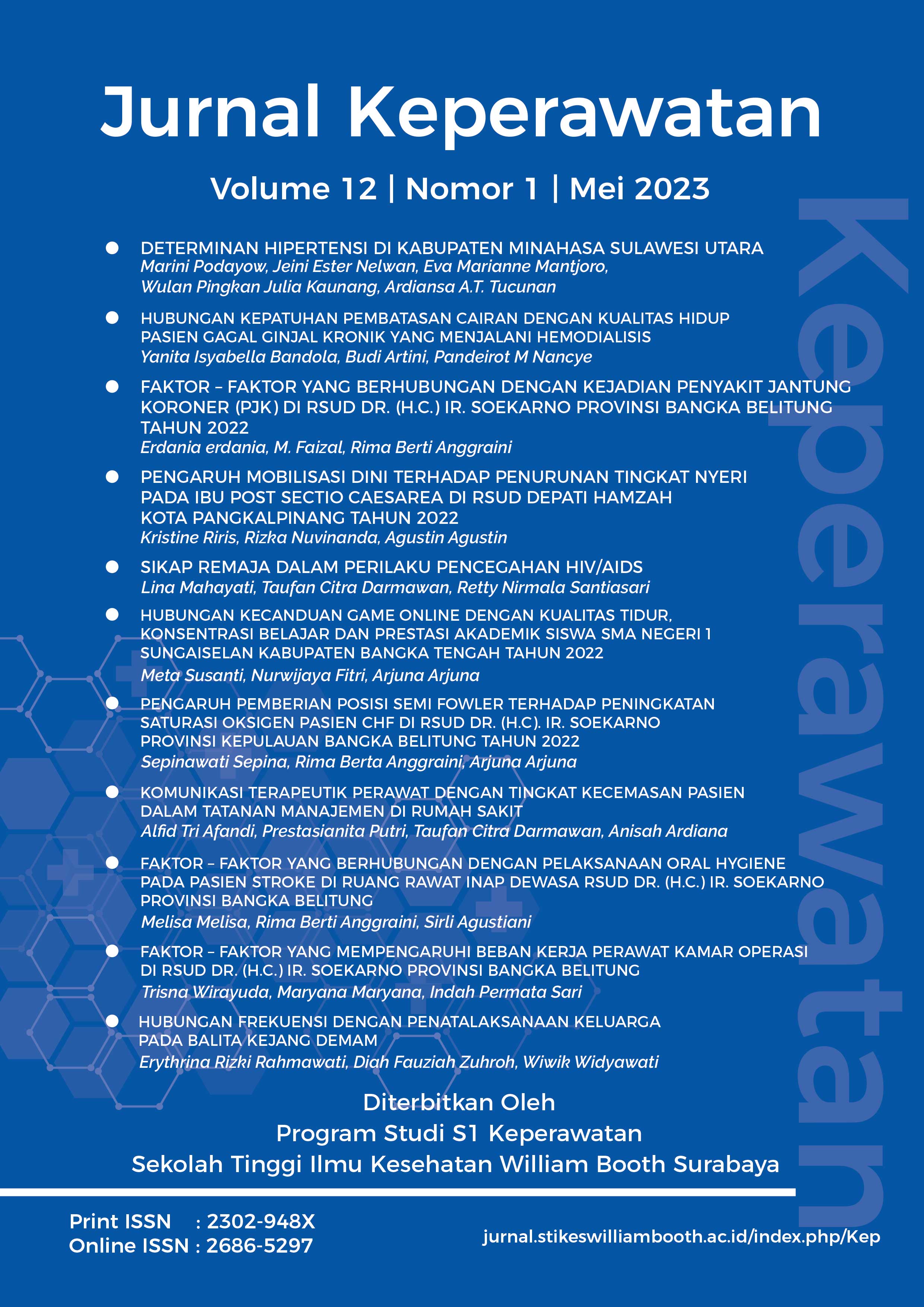 How to Cite
Podayow, M., Nelwan, J., Mantjoro, E., Kaunang, W., & Tucunan, A. (2023). DETERMINAN HIPERTENSI DI KABUPATEN MINAHASA SULAWESI UTARA. Jurnal Keperawatan, 12(1), 1-8. https://doi.org/10.47560/kep.v12i1.404
Copyright (c) 2023 Jurnal Keperawatan
This work is licensed under a Creative Commons Attribution-ShareAlike 4.0 International License.
The authors who publish this journal agree to the following requirements:
The author retains the copyright and gives the journal rights regarding the first publication with the work being simultaneously licensed below Creative Commons Attribution ShareAlike License which allows others to share the work with an acknowledgment of the author's work and early publications in this journal.
Authors can include separate additional contractual arrangements for the non-exclusive distribution of the journal's published version (for example, send it to an institutional repository or publish it in a book), with an acknowledgment of its initial publication in this Journal.
Authors are permitted and encouraged to post their work online (e.g., at an institutional repository or on their website) before and during the submission process, as this can lead to productive exchanges, as well as excerpts of previously published works.